Interview – Ex-Vöid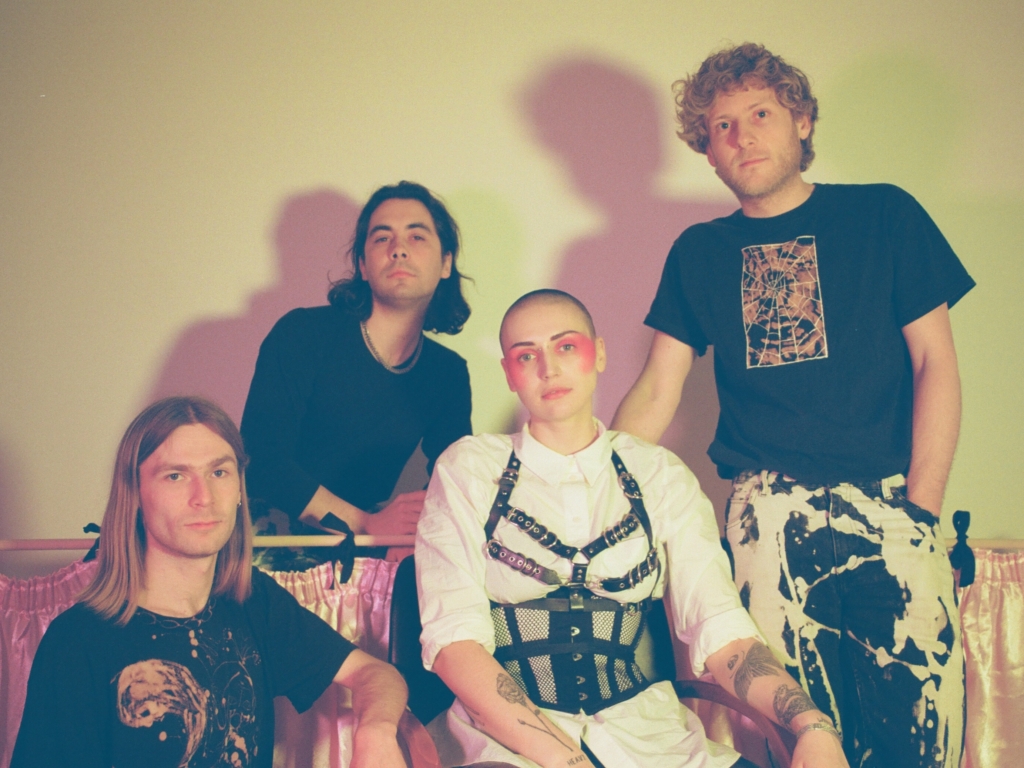 Joanna Gruesome, a Cardiff five-piece which existed in the UK in the early 2010s, sublimated noise in a way that had never been done before and left a powerful image on the indie music scene. Six years have passed since then. A new story of power-pop led by Ex-Vöid has begun. We spoke to the band's core members Owen Williams (Gt. / Vo.) and Alanna McArdle (Gt. / Vo.), on the release of their debut album "Bigger Than Before".
―we both missed making music together and we both love power-pop―
– Hi! This must be your first interview from a media in Japan? Perhaps the first interview from all media? Please introduce yourself to the readers!
Owen (O):Hello readers, we are Ex-Vöid!!!!
Alanna (L):It's true, we are!
– The band consists of Alanna McArdle and Owen Williams, former members of Joanna Gruesome, Laurie Foster on bass, and Jonny Coddington on drums. How did you come know each other and start the band?
O:We've all known each other for about a decade, I'd say? Lan and I played in Joanna Gruesome, Laurie and I have played in various bands together, and Cod recorded some of my earlier bands.
L:Yeah I think it's been 10 years, maybe 11 now. I joined Joanna Gruesome and through them I met Laurie and Jonny, who were at uni together at the time. O and I started Ex-Vöid a few years after I left Joanna Gruesome and a year or so after they stopped playing, I think we both missed making music together and we both love power-pop, so that's how the idea for the band formed.
Joanna Gruesome:
UK/Cardiff five-piece band led by Owen Williams and Alanna McArdle. The band's sound, a mixture of punk and noise, often drew on Pains Of Being Pure At Heart and My Bloody Valentine. Their debut album "Weird Sister", released from <Slumberland> and <Fortuna POP!>, was highly acclaimed by Pitchfork and other major media, and also received <Tower Records>'s "Monthly Recommends" in Japan. After releasing their second album "Peanut Butter" in 2015 and the single "Pretty Fucking Sick (Of It All)" in 2016, the band went on hiatus.
– Joanna Gruesome was a band from Cardiff, and now Ex-Vöid is active in London. Were there any reasons why you moved to London? Also, please tell us how the music scene in Cardiff and London is similar/different from each other.
O:I'm the only member originally from Cardiff. There was a pretty healthy scene going there when I was a teenager, but I feel like it's gotten a bit thin on the ground, especially following the pandemic. Saying that, there are still a few peeps doing great stuff. In terms of moving to London- I guess it comes down to the fact most of my friends and bandmates live here.
―taking pop song clichés and really running with them―
– Firstly, congratulations on the release of your debut album! How do you feel now that the album has finally been released?
O:The whole process was incredibly drawn out (partly due to the pandemic, partly due to us being incredibly slow, partly due to the pressing plant backlog) so it's nice people can finally hear it! I think some of the songs date back to like 2017 lol
L:Yeah it took ages so I mainly just feel like, thank god it's finally out. But people seem to like the tünes so that's always a good feeling!
– The legacy and inspiration Joanna Gruesome left on the indie music scene was big. Having listened to "Bigger Than Before", I felt that some parts of the album share vibes similar to what Joanna Gruesome had. Please tell us the aim, concept of this new band Ex-Vöid.
O:Quite a few of the songs were written between Joanna Gruesome ending and this band starting, so I think those ones still bear the JG mark. Especially because I still use this chord that I really rinsed in JG- it's like half dissonant/half melodic. I'm trying to stop using it but I can't.
L:It's definitely a kind of continuation of Joanna Gruesome, with Ex-Vöid I think O and I really wanted to lean in to power-pop influences, and that's probably the key difference.
– Please tell us why you named this album "Bigger Than Before".
L:I am obsessed with a 5 minute crafts video where someone makes an egg bigger than it was before. It makes no sense, there's no reason for them to be making the egg bigger than before. All throughout the video this text saying "BIGGER THAN BEFORE" comes up over footage of an egg. It's absurd, I love it. I made a joke at band practice about calling the album that, seeing as we were writing songs that sounded ~bigger than ever~, and then it just ended up happening. It's my best contribution to the record as a whole.
– The lyrics of the album tracks were quite personal which left me a strong impression. When it comes to songwriting, do you often draw from your own experiences, or are they often inspired by other people's stories?
O:Most of my songs aren't particularly personal, and often seem to be about stoners & hippies, though some of the more recent songs are based in my own experience. All of my songs have quite rigid rhyme schemes, and I find it hard to express my emotions in rhyme…..
L:Writing lyrics for Ex-Vöid has for me mostly been about taking pop song clichés and really running with them, that's probably why the word 'baby' is in so many songs. The most personal one to me was '(Lyin' To You) Baby', about getting out of a very bad relationship I was in when I was 18/19. And then 'My Only One' actually started off as a love song but I got dumped so I turned it into a breakup song instead.
―we've been able to choose our best songs from over the last 6 years―
– The album includes a cover of Arthur Russell's "I Couldn't Say It To Your Face". Why did you choose this song and why did you decide to include a cover on the album?
O:I actually have no idea. Maybe we were drunk? I don't remember deciding to cover it but it's on the album now.
L:We were definitely drunk lol. It was after we played a show in Leeds supporting Waxahatchee, O figured out the chords backstage and the rest… as they say… is history.
– Some songs, such as "(Angry At You) Baby" and "Boyfriend", were released in the past but have been reconstructed for this album. Were the other songs on the album written a long time ago too?
O:Those re-recorded songs date back to like 2017/2018 but the newer ones like 'Weekend' and 'No Other Way' were written in the pandemic. Lan's song 'So Neurotic' was written in like what?? 2015?? In a way the huge delay in actually getting the album done has meant that we've been able to choose our best songs from over the last 6 years or whatever lol.
– How was the recording process? What were some of the challenges, you faced in the making of this album? Also, please tell us some good memories too.
L:Well as we mentioned before it took years to actually record it. We were doing odd days here and there at our friends Sam and Rachel's studio whenever they could fit us in, and then the pandemic happened which obviously slowed things down a lot. A couple of the songs were recorded with Jonny at his studio, too. The best thing about recording was hanging out with Batman the studio pug.
―Keep on rocking, Don't stop rocking―
– Looking at the artwork and artist photos, it somehow seemed like the band's theme colors are pink and red. Are they?
L:I think that happened by accident. It was the theme for our first ever press shots, and it's just stuck. It's probably my favourite colour combination. I wish there was a deeper meaning but I just think it looks very cool.
– What kind of music have you been listening to recently? Please give us some recommendation of artists or albums if you have.
O:The yet-to-be-released Garden Centre album (which I happen to play on) is very good.
L:The upcoming Sniffany and the Nits record (O plays drums in the band) is amazing. They're probably my favourite band in the UK right now. I've been listening to the new Empath LP a lot, everything that Claire Rousay puts out, the new Raum record… I also listen to the Bree Runway album 2000AND4EVA every time I go to the gym. It came out in 2020 but it's still amazing.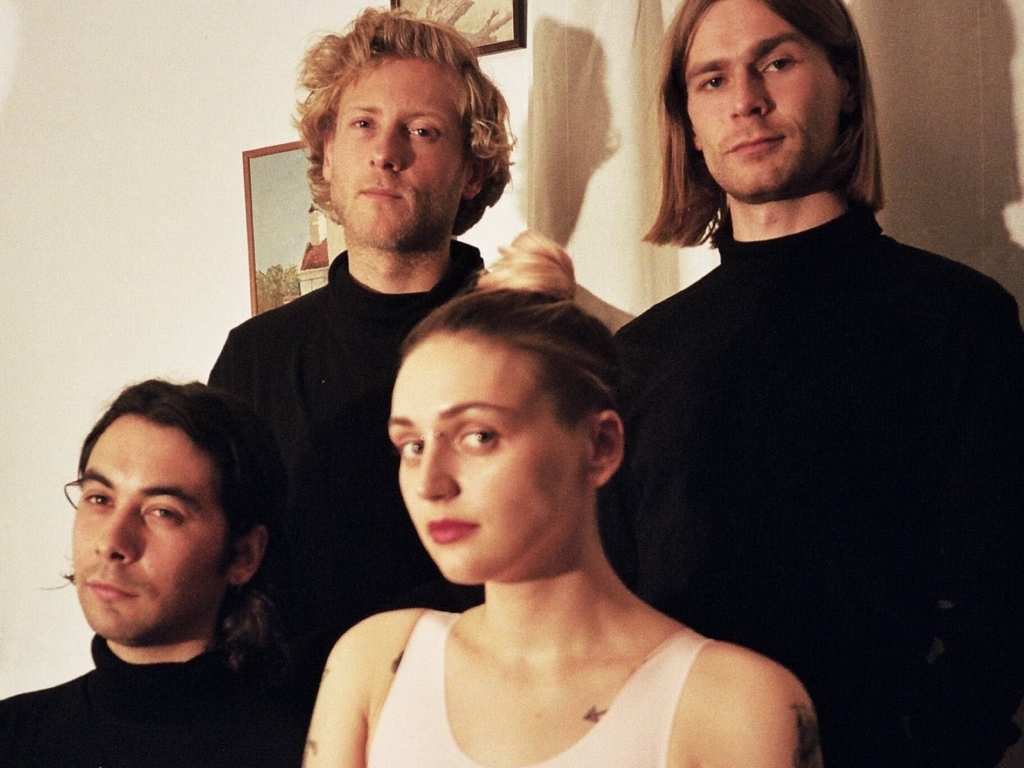 – Please tell us your plans and goals for the future.
L:I am personally working towards a 100kg deadlift and doing one single pullup. I can't speak for the rest of the band, but I think we are planning on just rocking out forever and ever.
– Lastly, please give some message to the readers!
O:Keep on rocking!
L:Don't stop rocking¡
---
■Release Information
ARTIST:Ex-Vöid
TITLE:『Bigger Than Before』
RELEASE DATE:2022. 3. 25
LABEL:Don Giovanni, Prefect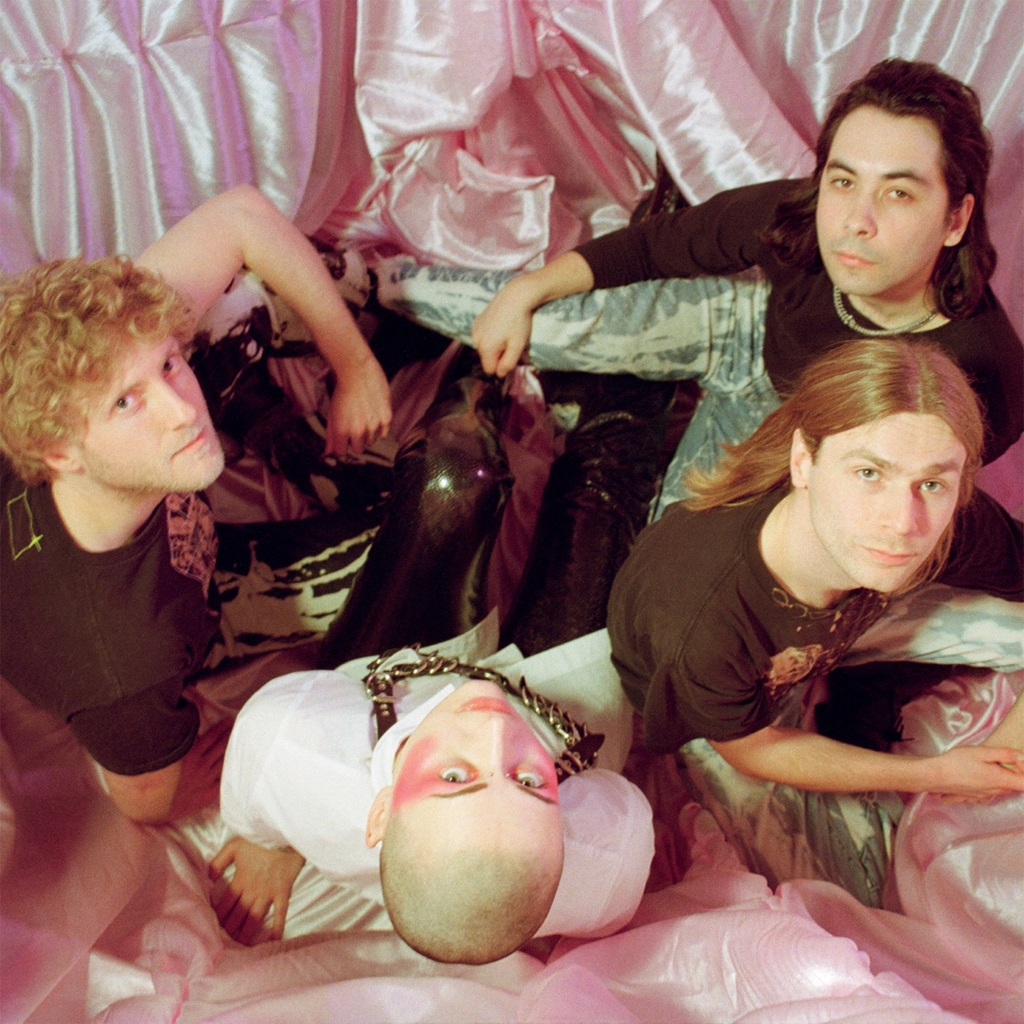 ---
■Biography
Ex-Vöid
Taking influence equally from Black Sabbath's "Into The Void", D.C.-area hardcore legends "VOID," and Raincoats number "The Void", the group 'Ex-Vöid' was formed and began to compose short power-pop songs. While sonically a continuation of the "Gruesome Sound" in some ways (particularly in the inclusion of brief and aggressive 'hardcore' punk sections), Ex-Vöid exploit the use of vocal harmonies and twin-lead guitars to push the 'pop' qualities of McArdle and Williams' writing into extreme and dangerous territory.
---