Interview / First Hate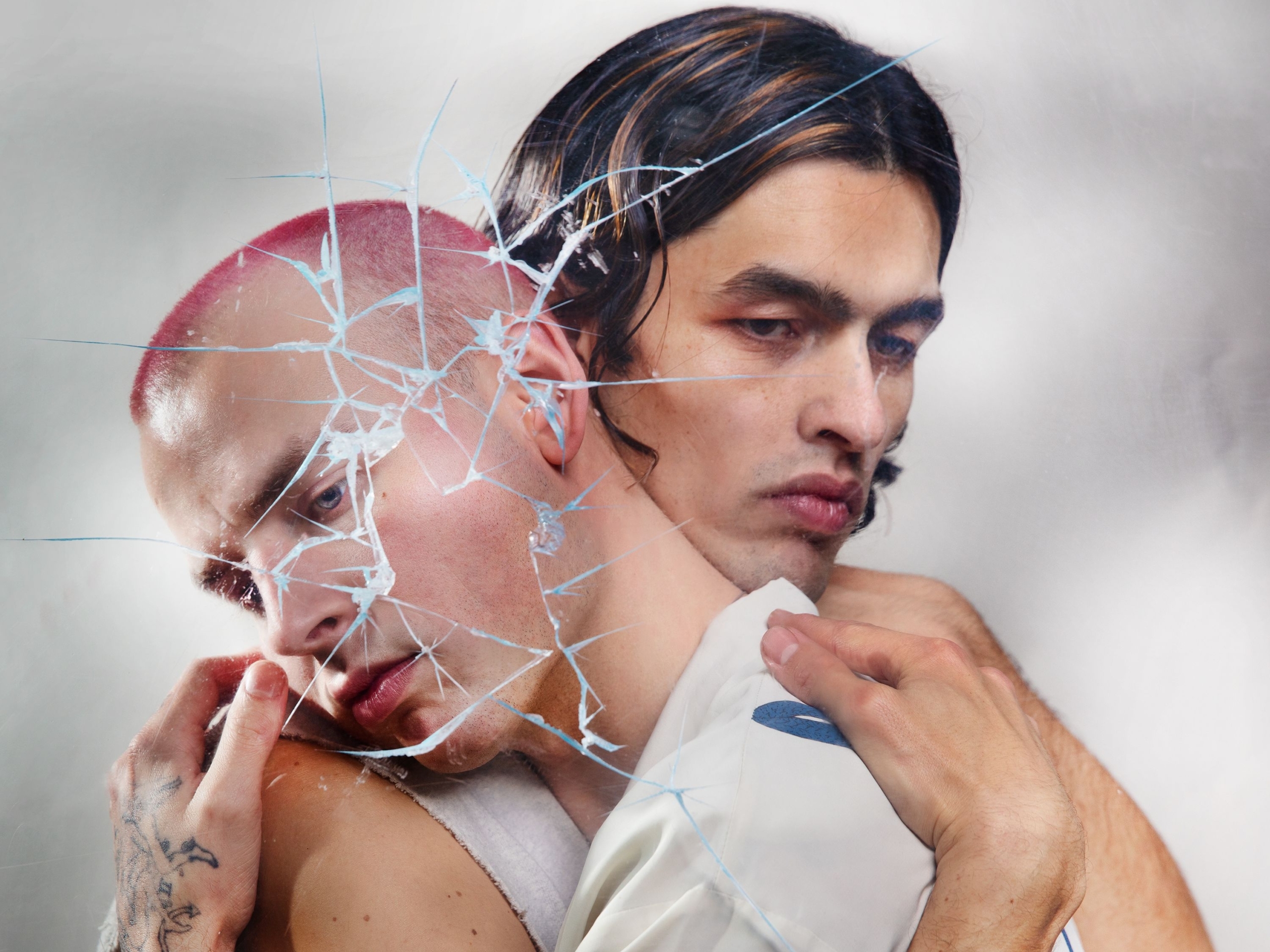 In the mid-2010s, Denmark,Copenhagen was the new epicentre of the indie-music scene. Then, one of the brightest was the duo First Hate, consisting of Joakim Wei Bernild and Anton Falck. In the five years between their debut album and the 2nd album "Cotton Candy", what have they seen and felt in the world, and how have they expressed it in their music?
ー We are very grateful for the lives we get to live and for the future ahead ー
− First of all, could you give us a brief introduction of yourselves for our readers who don't know you guys yet?
J : …A two-person human centipede of catchy melodies and contradicting feelings.
A : Hello we are First Hate, an electronic art pop duo from Copenhagen, Denmark. We met as teenagers and started a bedroom band. Making songs on our computers and going nuts on stage is what we do best. We have toured many times around the world, and played countless shows… Our new album 'Cotton Candy' is out now.
– From your first album, "A Prayer For The Unemployed" to your second album, "Cotton Candy", there have been all sorts of difficult issues in the world. How have the last five years been for you guys?
A : The world keeps changing, there has always been shit going on around the planet, but for the first time in our life a war, and a pandemic has really come very close to us. We have friends in both Russia and Ukraine that we miss and worry about. It's been a big learning experience. We are very grateful for the lives we get to live and for the future ahead even though the world seems to be near the end sometimes. We felt very strange releasing music and celebrating our album in the middle of a war. But it's important to remember that this is our job and how we make a living. Then there is Covid and the climate crisis, Palestine, the ongoing refugee crisis and all the other wars we don't hear so much about..
J : It's difficult even to really think back five years. The last couple of years at home have stood in stark contrast to the years before where we spent all of our time touring, but I guess you just gotta go with the flow and adapt to whatever the circumstances are. It seems we have a lot of possible major global events to experience in the years to come. As Anton said, we're grateful to be here and that we get to do what we do.
– In the lead single 'Commercial' you mentioned the problems facing capitalism and the desires of capitalists. Can you elaborate a little on your thoughts on this?
A : The whole world is built on money. We are a part of this hamster wheel ourselves, we feed it and we live in it. The song is about being trapped in a system that you benefit from, but that also feels like a prison. We actually envisioned Tokyo a lot while making the sound design. And the lyrics are inspired by "Zankoku na tenshi no teze". During the first lock down I memorized the entire lyrics for that song, while driving my blue car. I hope to come to Japan and sing it in a karaoke bar one day.
"ZANKOKU NA TENSHI NO TEZEEEE MADOBE KARA YAGATE TOBITATSU ! "
ー Between the underground and the mainstream ー
– Throughout the second album, the sound was more pop-priented than the previous album as well as single "Commercial".
A : We have a special gift for writing catchy anthems. People from the mainstream radio channels say that our music is not pop music, but who are they to decide what pop is.
We like to think that we place ourselves somewhere between the underground and the mainstream. As a gateway for the underground people who think pop is taboo but have a guilty pleasure for it or the pop-lovers who might want to challenge their ears a bit. We are really happy with the new album and the different atmospheres it encapsulates. It was fun to make and it's been really fun to make music videos, artwork, merchandise and pictures for it too. The core of the music is the same, but the sound is new.
– The vibrant hairstyles stand out in the artwork. Are these visuals related to the music or the album's theme?
J : One of the main themes on the album and inspiration for the title is the pursuit of a rush. Like the sweet urge for cotton candy, that collapses into nothing upon touch, and leaves you only with sticky fingers. For the visuals we were inspired by theme parks at night and the idea of two hustlers on the run from robbing one of the candy stores.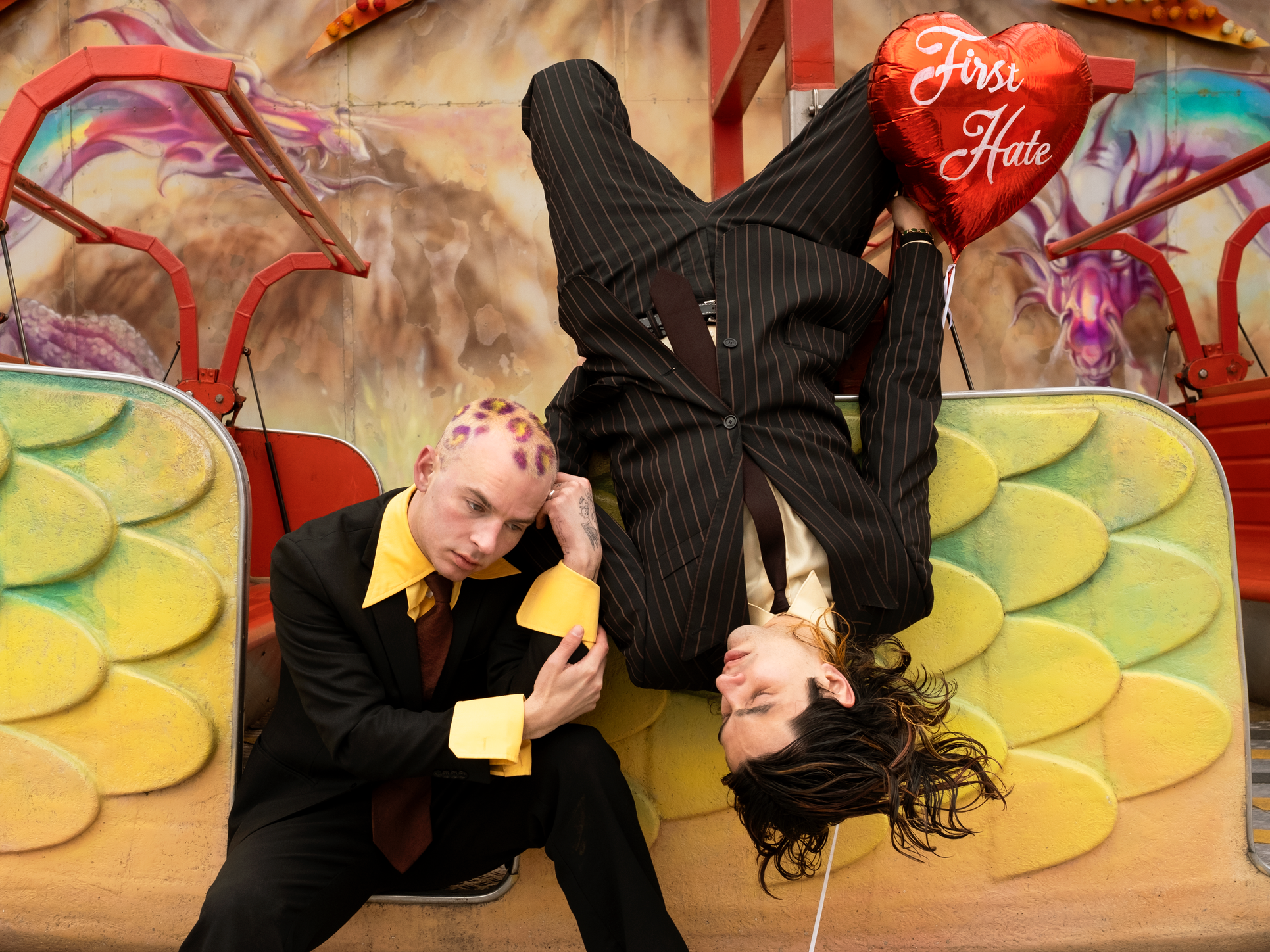 ー The current music scene here in Copenhagen is a bit differentー
– In Japan, Denmark is considered to be a country with a high level of happiness and a nation to emulate. So, I'd like to know that what do you think is Denmark like from your point of view, having actually lived in Denmark and had live shows experiences all over the world?
J : Denmark has quite a lot of wealth and for a large part of the population, life here is really easy. Growing up, it's easy to take for granted and I don't think most people here realize just how easy we have it. With a lot of free time, there's plenty of room for existential anxiety and Danish people aren't very spiritual, so life can quickly seem pointless without a higher purpose.
– So it seems that when Elias from Iceage said that the reason for Denmark's high level of happiness is that so many people use antidepressants in another interview, he wasn't just joking.
J : The 'happiest country in the world' thing is ridiculous and Elias is probably right about the antidepressants thing haha.
A : First of all I think measuring happiness is an impossible thing… Denmark is a good place in many ways. Our system has many flaws but compared to other countries we have a good political system of sharing what we have and giving security to people living here. But our borders are very strict with refugees and immigration. Sadly we are a very closed off and politically racist country. Living in Copenhagen is easy and fun but also sometimes a bit too easy. We always bump into friends everywhere which is nice but It's a little bit inbred and we are all each other's ex-lovers.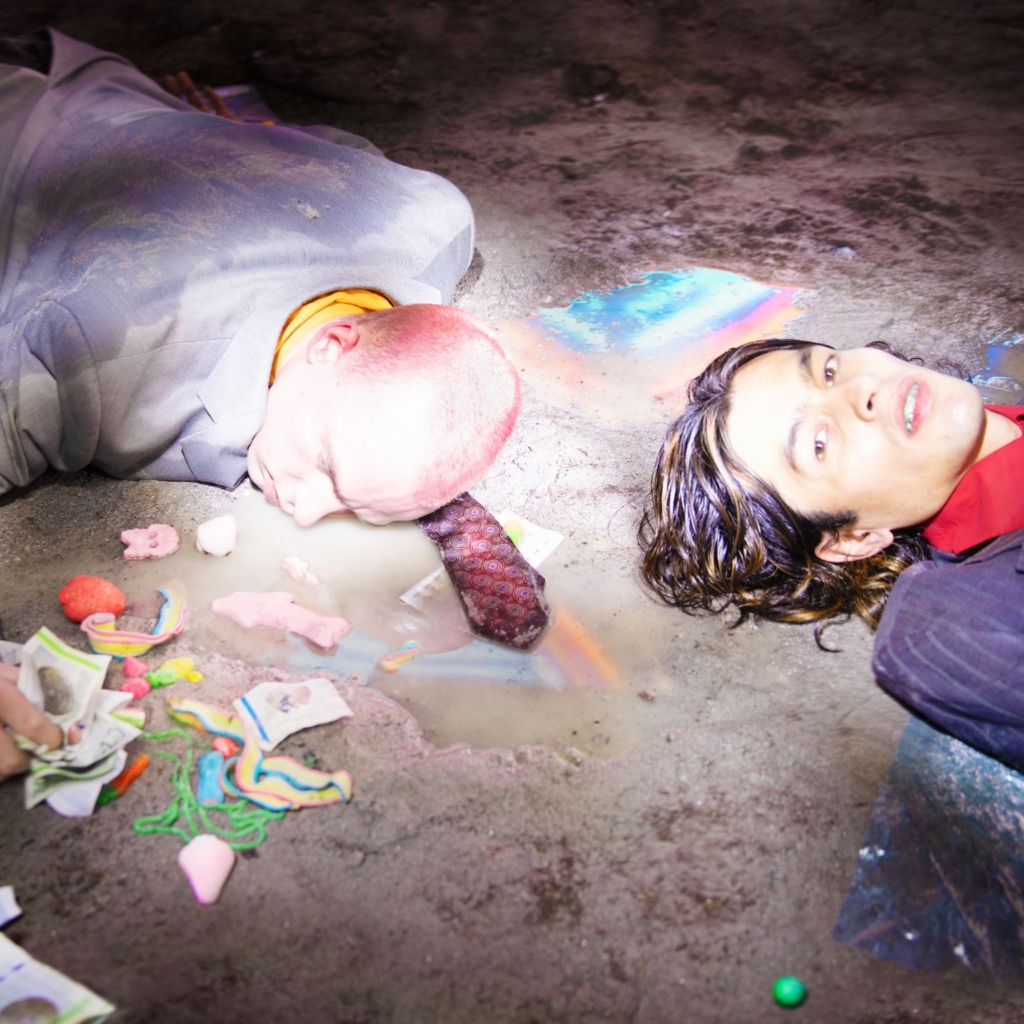 – In the mid-2010s, the Danish music scene was getting a lot of attention in Japan. A few years have passed since then, but what is the current Danish music scene like now?
J : The current music scene here in Copenhagen is a bit different. It's the same old venues still, but the vibe is new, more electronic and playful compared to the guitar bands earlier on. Most shows I see are experimental pop in some ways. I am quite excited about new artists like Debbie Sings, Ryong, Ydegirl, Yangze, Francesca Buratelli, Devil, Haloplus+ and Angel Wei. The last one is my own solo project, so check that out first haha. It's out on the Berlin label Yegorka, which also just released the Japanese artist Dove.
– You seem to have a lot of friends in Japan, including Koki Nozue who is a photographer.
A : In 2015 another photographer Yuki Kikuchi came to Copenhagen, since he didn't have a hotel he stayed at my house with my cat and we became friends. Then the next year i met Koki Nozue and Yusuke Takamoto at a bar in Copenhagen. The world is both big and small. When we came to Japan we toured with Yüksen Buyers House and Cemetery. and Koki was there. I have been in love with Japan and Japanese culture since I opened my first Dragon Ball book at age 12 and traveling around with these boys was the best way to see the country we had always dreamt of. There are many good memories.
J : The last time we saw Koki was at a restaurant in Koenji on the last night we were in Japan. The night ended up with all of us Koki, Cemetery and the guys from Yüksen Buyers House in a long farewell seance on the street and big group photo, posing on the pavement.
Miss you guys.
– Do you have any plans or goals for the future?
We've already working on new music, new music videos and our merch and vinyl is coming really soon, so stay tuned. We hope to be back in Japan soon and we dream of playing live on Japanese TV. If anybody out there can help us – get in touch!
– Lastly, please give some messages for the readers.
We hope to see you at our next shows in Japan. It might be sooner than you expect.
---
■Release Information
ARTIST:First Hate
TITLE:『Cotton Candy』
RELEASE DATE:2022. 5. 27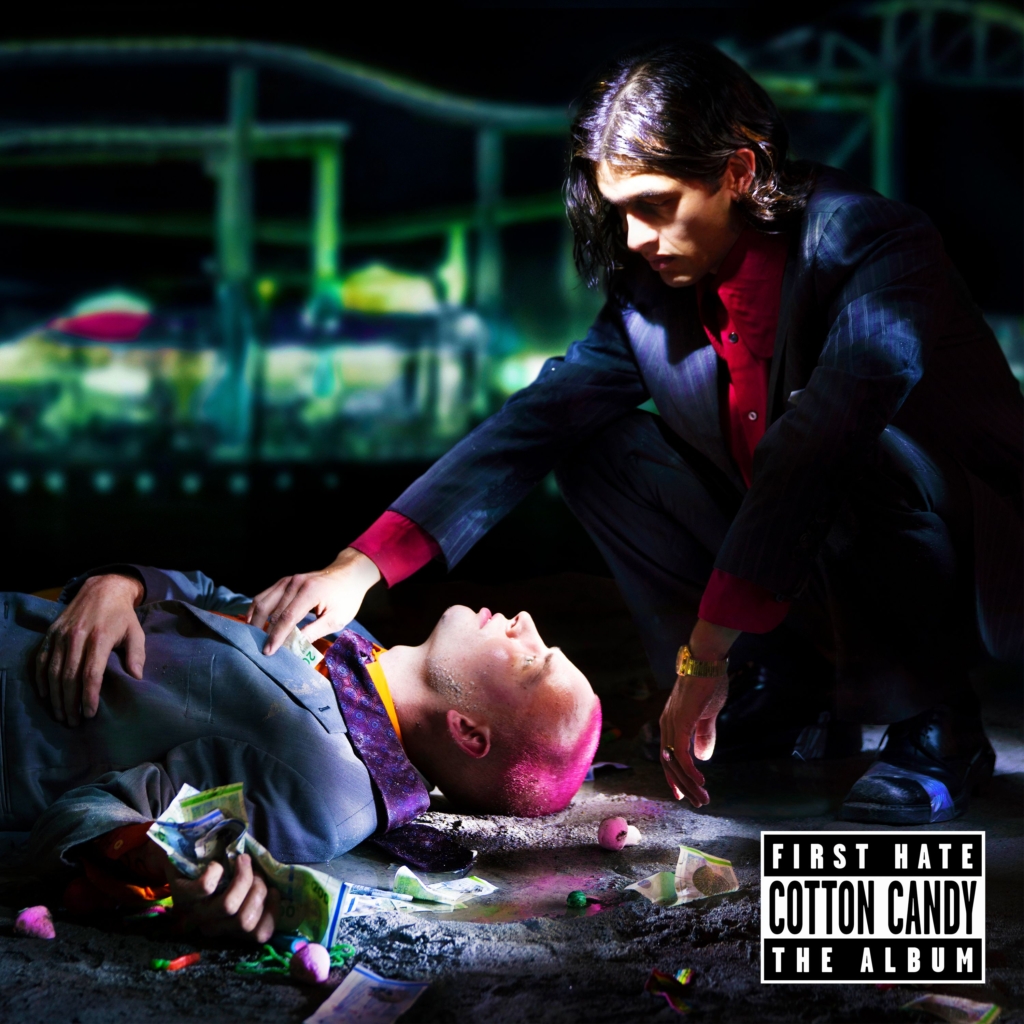 ---
■Biography
First Hate
Electronic art-pop duo from Denmark / Copenhagen, consisting of Joakim Wei Bernild and Anton Falck. They made a splash in 2014 with his self-titled EP "First Hate" and released his debut album "A Prayer for the Unemployed" in 2017. Then, their genre-bending electro-pop-based musicality has attracted attention around the world, and they have toured Asia from their base in China. They have toured with Yüksen Buyers House, Luby Sparks and Strip Joint in Japan, and have played enthusiastic live shows all around the world.
---