Interview – Stello
An exclusive interview with Stello, an indie rock band based on New York City that plays Jazz and Rock music. We asked them about their thoughts on Pop music, and their debut album "Carousel".
ー It's gonna push our sound toward those two genre poles pretty often ー
– – Please tell us how the band started.
The band started as a solo project, but we gradually gathered together through both hometown and college friends with a similar attitude towards music.
– – What is the meaning of your band name, "Stello"?
Stello is an alternation of Stella, from the song "Stella by Starlight." Readers, please check out Miles Davis's live version from My Funny Valentine, there's a moment at 1:53 where someone in an otherwise-silent audience howls "yeeeeeeaaaaah!" in between Miles's phrases. It's a personal all-time favorite moment of recorded music, we wanted to name the band "One Minute and Fifty Three Seconds into Miles Davis's Stella By Starlight" but that doesn't fit on a tee shirt.

– – Who or what influenced you to create your particular style like jazz and rock?, and have you been making music for nighthawks at a diner and late night walks in the city?
There are the obvious precedents to the jazz-rock thing: 70's fusion jazz, Steely Dan, Radiohead, Mac Demarco's first couple records. And those certainly play to our taste, we all love that music. But if anything our genre is probably influenced more by our instrumental training than anything else. Three of us went to jazz school and we've got two electric guitarists, so that's gonna push our sound toward those two genre poles pretty often. But we're not often thinking about genre when making music, influences come more from ideas that we find exciting.
And New York City is an inspiration itself, quite literally. Many of our tracks include recordings of subway squeaks, city ambience, sidewalk dialogue, etc. And nearly all of our lyrics are imagined as scenes from inside apartments or on the street. The "nighthawks at the diner/late night walks in the city" thing is genuine: a common test for a new song is to pop headphones in and go for a loop around the block.
ー at the end of the day, this is pop music in its heart ー

– – You released the great debut album "Carousel", how would you describe the characteristics of the album, and what were your thoughts while making it?
Pop music is, historically, a genre made and developed for the young people of each generation. So while its sound and language has changed drastically over time, good pop music is consistently adept at projecting small dramas (a teenage breakup, a party, a car ride) into grand life-or-death epics. We often applied that same idea to these songs, but looking for less common moments to blow up in technicolor. It's hard to nail down one common thought throughout the two years spent making the record but that was certainly a consistent method we used. Our songs might not sound like Top 40 but at the end of the day, this is pop music in its heart.

– – I felt more energy from the track "I Can Hear You Calling" than the previous songs and the live video was exceptional. Could you tell us more about the concept and inspirations behind the song?
Yeah, it's certainly our most energetic tune. It was intended to be the ultimate "reaching for the heavens" song, and we wanted every element to support that feeling of a massive wind blowing through your hair. It's a hell of a lot of fun to play live, too.
ー There will be exciting positive changes amidst the obvious struggles of the live scene closing down ー

– – Do you have any bands, labels, or communities that you are interested in these days? I heard you interacted with the members of the Japanese indie rock band, DYGL, specifically Nobuki Akiyama(Vocals) and Yosuke Shimonaka(Guitar).
At the moment we're particularly interested in the rebirth of the music community here in Brooklyn. The quarantine was a reset for everybody, and so we're optimistic there will be exciting positive changes amidst the obvious struggles of the live scene closing down for a year.
As for DYGL, I miss those guys! I met them while basically couch surfing in Japan. Their friend Yuki got me a gig opening for them in Kichijoji and they were absolutely electric, their set was the first time I'd ever crowd surfed.

– – Do you have any plans to visit Japan? I think your music would be perfect for Tokyo nights.
None at the moment but I have complete confidence that we'll be back at some point.

– – Please tell us your plans for the future or any goals you have as a band.
New music is coming! We've got a bunch of new songs pretty far along in the recording process. It's got a new feel, more acoustic but also groove-based and funkier. Been listening to a lot of James Brown, and the band often just layed like three or four riffs on top of one another and let that run for the course of the song. These new songs are built for that.

– – Lastly, please give some message to the readers in Japan!
First off, I adore Japan and deeply appreciate how kind everyone was there. Your country has a beautiful music scene and I'm grateful I got to experience it. Second, if anyone reading this is interested in visiting my favorite spot in Tokyo, I highly recommend a cafe called ザハリアージュ at 1 Chome-16 Komaba, Meguro City. And send us a picture on Instagram (@stellonyc) if you do! Here's a clip of our guitarist Will hanging there. If I could spend every morning sipping coffee next to Miles, the owner's Shiba Inu, I'd die happy.
---
■ Release Information
Stello – Carousel
Date:9/10/2021
Label:Stello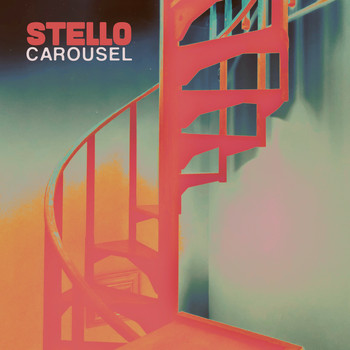 ---
■ Biography
Stello is an indie rock band based on New York City. Their Music is a unique blend of Jazz and Rock, influenced by Frank Sinatra and artists they answered, and set in the city at night. The approach to the songs are clearly different from bands in the recent indie scene where post-punk and guitar rock are on the rise. On September 10th, they released great debut album "Carousel" made over 2years.
---