Interview – Wet Leg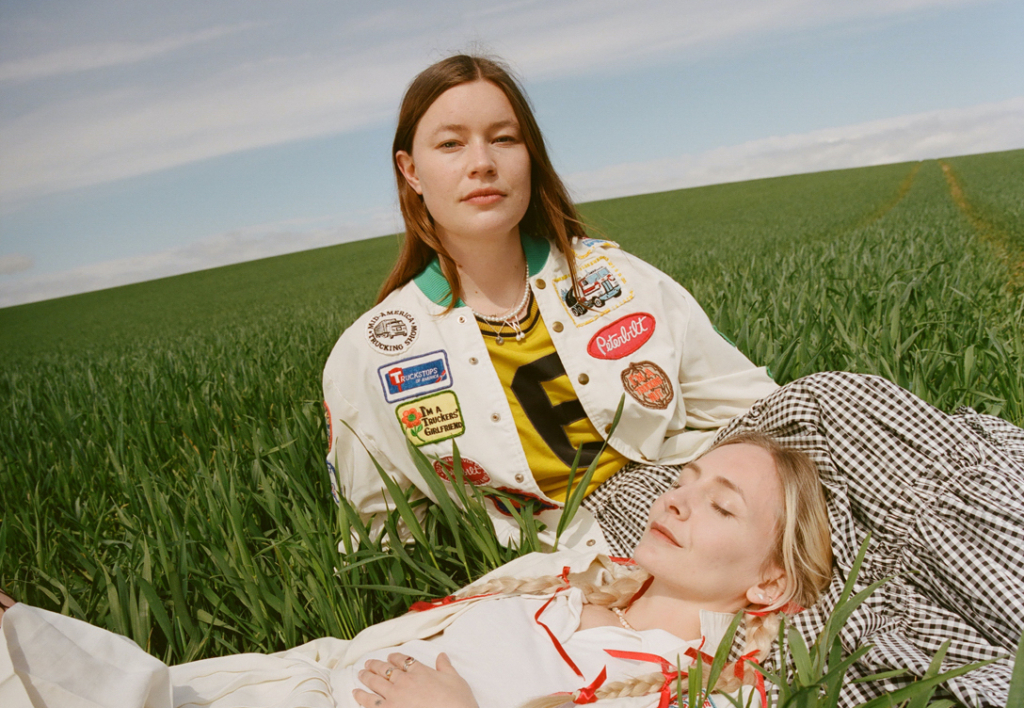 Hailing from the Isle of Wight, Wet Leg, a new signee of Domino. Will they go beyond the shock when The Strokes emerged? Find out to see the "real face" of the new hope of the 2020s.
※In this interview, we talked with Rhian Teasdale, guitar and vocal of Wet Leg via Zoom.(Interview Date:10/17)
Firstly, please tell us how you guys met, and how Wet Leg started.
Rhian:We met in college, when we were 17. We've both been in different bands, kind of in-and-out of them when we were in the Isle of Wight. In such a small music scene, you kind of know everyone. It was about ten years later when we started playing music together. I was doing a solo thing, and I had some shows booked, like some little festivals around the UK. I was really falling in love with music, playing, and going to all these gigs. So, I asked Hester if she wouldn't mind coming and playing with me, cause I couldn't do all these shows on my own. And then we ended up playing a lot of festivals together. Back then, we were doing something more folky, more mellow. And then after that summer, watching our favorite bands like IDLES, it's definitely one of the bands that inspired us to start playing the guitar, and write more pop songs I guess?
About your band name, how did you come up with that? We believe many people are curious about that!
I think it's so funny that band names seem not very important but they kind of make or break a band. We were just messing around with the emoji keyboard. And we were like "oh it's so funny, you can make a band name out of emojis!" So yeah, if you ever get stuck with choosing a band name, just get your emoji keyboard out!
ーwe never expected this…ー
We've heard that your shows were full of people and you've already sold out your US tours. How do you feel about all this success?
Rhian:We're both pretty dumbfounded. We never expected this. To even have shows booked in the US is really silly to us, and now that they've sold out, we're both like "What is going on?" It's just, everyday, something amazingly weird happen, and I'm like "Okaaayyy??". And so yeah, I'm very shocked and very happy, but very weird. But it's cool.
ORM:The number of your monthly listeners is increasing day by day!
Rhian:Yeah, it's so weird!
If you don't mind, please tell us how you came to get signed to Domino Records?
Rhian:That's another weird thing. We were in lockdown when we signed to them. At first, our manager reached out to a few labels, from small indie labels to big indie labels like Domino, and those major ones. And Domino just went straight away and felt like a really good fit, but it was so strange when we signed, because they've never been to our gig because there were no gigs happening.
Rhian:During lockdown, we made two music videos, one for "Chaise Longue " and we made another one. And we recorded four songs with Hester's boyfriend. So yeah, we had a Soundcloud of these four tracks, two music videos to go with them, and a very good experienced manager I guess. So Domino just kind of met us and offered us a deal. This was very scary because they haven't seen us play until after we signed and they came. They came to the Isle of Wight to see our practice room we were using, and they sort of watched our rehearsal. It was very nerve-wracking.
ORM:The label-person of Domino came to the Isle of Wight to see you guys? Cool!
Rhian:It was quite flattering!
ーwe wanted to create a world around our bandー
We searched the Isle of Wight on Google Maps and it was so beautiful! We'd like to know if there are some nice spots there or any food you like?
Rhian:Yeah, there's loads! The West Wight is really beautiful and unspoiled. There's an attraction called "The Needles Holiday Park", but actually it's a bit of a secret. The best beach is right beneath there, "Alum Bay Beach". It's got really beautiful white chalk cliffs. When the tide is really low, you can just go and walk on the smooth eroded white chalk along the coastline of it. It feels like your own space and that's pretty cool.
ORM:We hope we can visit the Isle of Wight someday…
Rhian:Yeah, you should come!!
The house which appears in the two music videos, "Chaise Longue" and "Wet Dream" look the same, Are They? Is there any meaning to it?
Rhian:Umm, well it's Hester's mum's house, and it's such an incredible looking house. We wanted to create a world around our band, so with the second video, we thought it would be a nice continuation to kind of carry on this weird prairie cottage core world. It just seemed like a good thread to put through the 1st and the 2nd.
Can you tell us a bit about the inspiration and background behind the two songs?
Rhian:"Chaise Longue" came about after I think it was Christmas time in 2018. I was staying with Hester, I moved to London now so when I came back to the Isle of Wight I would stay with friends or family. Hester will make up the chaise longue for me, and make it into a bed, that's where I sleep when I stay at Hester's house. I was supposed to stay for a couple of nights, but we were having so much fun, and I ended up staying for like 6 weeks (?) in her lounge. We would stay up really late at night and bake cookies, put tiny gems onto our guitar pedals, have really silly midnight jams…and "Chaise Longue" was just the result of that, kind of off-the-cuff and improvised.
Rhian:And "Wet Dream", I had a boyfriend (ex-boyfriend), and he was in this stage of messaging me after we'd been broken up, saying he had a dream about me. And so I guess I just kind of wrote that song with that experience in mind, haha.
What songs did you listen to when you were young?
Rhian:When I was much younger, like at 7 or 8 I used to listen to musicals, it's not very cool, is it? And then I guess when I was like 14 or 15 I inherited my older siblings' iTunes. I really listened to Bjork, Joanna Newsom. The Beastie Boys and A Tribe Called Quest was on there as well. And then I grew up more and started having my own iTunes and Spotify, I listened to lot more of those folky stuff like Devendra Banhart, Laura Marling. And then I think I went through a phase of Kings of Leon, The Strokes, Black Rebel Motorcycle Club, and got a bit rockier. Me and Hester listened to so many different things when we started Wet Leg, and I think we definitely drew from those rockier and trashier influences.
ORM:I see. What kind of person were you like when you were a student?
Rhian:Growing up, I've always been a bit of an extrovert, and (I don't really want to speak on behalf of Hester but,) Hester was always kind of quiet and gentle, so yeah, we're like the "Yin" and the "Yang".
Are there any bands or artists you're interested in?
Rhian:Yeah, there's a band called Honeyglaze. They're from London, and I'm so obsessed with them. They've only put out one single, but I've been to their shows a couple of times and they were just amazing. They're recording with Dan Carey at the minute. Katy J. Pearson, I'm also obsessed with her as well. And CMAT, she's just amazing when she plays live. Her vocals are so strong and powerful. It's kind of like country, but all of the lyrics are about KFC, Instagram and stuff like that, and she's a really cool performer.
Rhian:I think it's great to be able to go to festivals and gigs, because you get to discover loads of new music!
ORM:Speaking of Dan Carey, we saw that you worked with him on "Wet Dream". What was that like?
Rhian:So amazing. We were hunting around for producers while we were recording with a few different people, and our guy suggested Dan Carey. I remember saying "Oh my god, no, he's too cool".
It was really fun, and that (=being fun) was always really important to me and Hester. With Dan, it was definitely fun. He's super kind and he just loves music and that's always a good vibe isn't it when people are enthusiastic about what they do?
Do you have any hobbies other than music?
Rhian:Hester is a jeweler, so it's not really like a hobby and it's kind of a job, but she's very good at making things and she made this necklace I have around my neck. It says "Wet" and she's got "Leg"!
Rhian:Other times we spent outside roller-skating or doing longboard dancing. When we were on tour, we'd have our roller-skates and our longboards and with that we'd do some cross steps and have fun with them.
ーSeven-Eleven and sweet corn soupー
Please tell us your impression of Japan.
Rhian:I went there about five years ago or something. My sister was in Gifu and teaching at school. It felt so different, and it was like a parallel universe to me. Umm, the Seven-Elevens were great! The sweet corn soup that you can get from the vending machines just blew my mind. It was really cool, everyone was super polite and I'd love to go back!
Lastly, can you tell us your plans for the future? Also, please give some message to the readers in Japan!
Rhian:More touring! We're supporting shame. They're really cool so it's pretty exciting and intimidating. We've got another release coming up hopefully in a month, but we need to make a music video for it probably in the next week. We're just working on recordings at the minute, so hopefully an album maybe like next year's spring, summer or something but while away.
Rhian:Message for the readers in Japan… Hmm…
Hi!? Nice to meet you! Hopefully we can come to Japan sometime! If you ever come to our gig, please pick me up and hand me one of the "onigiris" from Seven-Eleven.
ORM:Haha! Onigiri! Yes, they're great! There's a lot of festivals in Japan like Fuji Rock and Summer Sonic, so there's definitely a lot of fans who'd like to see you play!
Rhian:That would be so cool, oh my god… It would be really silly if that happens, but so many silly things are happening right now, so you'll never know!
---
■ Release Information
Wet Leg – Chaise Longue
Date:11/26/2021
Label:Domino Recordings、Beatink
Product No:RUG1232
---
■ Biography
Wet Leg
Amidst a night of hazy scenes in their native Isle of Wight, Rhian Teasdale and Hester Chambers found themselves at the summit of a Ferris wheel.They decided to start a band. The band is called Wet Leg.Arming themselves with guitars, effervescent imaginations and a shared love of the The Ronettes and Jane Birkin, through to Ty Segall and Bjork, they set about making some recordings of their own.
(Domino Records)
---